College Basketball Broadcaster
On January 28-29, 2011, Concordia University (Ann Arbor) hosted the 60th annual "Concordia Invitational Tournament," the second-longest running college basketball tournament in the nation.
Longtime Ann Arbor-area basketball coach and media producer Steve DeDoes served as play-by-play announcer for all eight games of this exciting event for the broadcasts aired over the Internet by CUAA.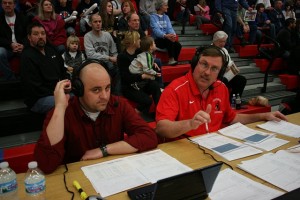 ** You can access the archived broadcasts below, and hear Steve's call of these games. Click on the link, then select "ON DEMAND" in the set of tabs. The games are presented in reverse chronological order; the first game listed is the men's championship game between Concordia Univ. (Chicago) and Concordia Univ. (Ann Arbor).
Link to Concordia University's archive from the CIT (new window)
(suggestion: move the cursor in the time bar "in" a couple of minutes…get past the dreadful music at the front of the segment)
The second game in the list is the women's championship (CUAA won over CU-Nebraska) and, at the time of this post, all eight games were available through this portal.