In the "sprint" that comprises the small-college baseball season, Mattie DeDoes – and his Oberlin team – put forth some incredible highlights in the early part of the race.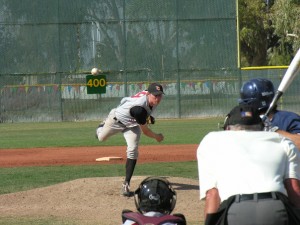 The Yeomen – with DeDoes "on the bump" as one of the team's top starting pitchers – swept a doubleheader from Concordia University (Ann Arbor); scored wins over Williams College and more on their Arizona trip; and opened their conference season with a 4-game sweep of Hiram College.  Mattie's pitching led the way in all of these contests, and he also showed a great bat on a few occasions where he was inserted into the lineup.


However, the Yeo's youth and inexperience began to show up as the North Coast Athletic Conference (NCAC) race swung into high gear.  DeDoes was mediocre against Kenyon College, as the team dropped three out of four games in this crucial divisional series.  However, he was brilliant in his start the following weekend, but poor defensive play resulted in a 5-1 loss as Oberlin dropped all four matches against Allegheny.


At this point, Mattie had developed a touch of shoulder tightness.  Coach Adrian Abrahamowicz, with the Obie's out of the running for the post-season, opted to take DeDoes out of the pitching rotation.  Instead, he inserted him into the second spot in the batting order, playing him primarily at shortstop (due to Mattie's roommate – Sean Cohen – being shelved due to injury).
The following weekend against Wooster, DeDoes' bat came alive in the second game of the series against the Scots.  Mattie's 3-run homer in the seventh gave him 4 RBI's in that game and tied the contest 5-5; however, Oberlin lost the 9-inning contest by a 7-6 score.
For the season, Oberlin recorded a 17-23 overall record, with a 5-11 NCAC mark.  Mattie's personal statistics included:
a 2-2 pitching record, and a 4.20 ERA in 7 starts and 8 appearances.  His three no-decisions were "quality starts," two of with led to Oberlin victories (Concordia and Williams);
at the plate, he recorded a .371 batting average, a .543 slugging percentage;
and Mattie was fifth on the team with 13 RBI's, despite having less than one-third of the plate appearances of most of the lineup regulars.
For next season, "Coach A" is looking for Mattie to not only help lead the pitching staff, but also to be a more regular force in the lineup – based upon his 2012 pop at the plate.  The Yeo's lose senior SP Jason James, who not only was a fine pitcher, but a great teammate; however, they will return the rest of their squad for 2013 in hopes of making a jump to the top of the NCAC !