Mattie DeDoes Takes Tough Loss, but Passion and Heart on Display
July 17, 2012 – To see Mattie DeDoes pitch on this warm summer evening in Richmond, Indiana was to see something special.  Not that DeDoes was superb on this night (although he was very good); he didn't win, nor did he dominate.  Those kind of nights are the easy ones to remember.
No, what made this night special – and worth the trip for his parents – was to see, in person, a passionate artist overcoming challenges and obstacles of many kinds to create a canvas of individual expression.  The pure love and total grit that Mattie put into his night's work, overcoming an ever-growing set of difficulties, was a concert that had to be witnessed live.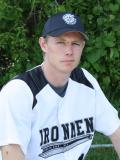 The young righthander from Ann Arbor has struggled throughout this summer with shoulder tendonitis, the first arm trouble of his career.  The condition has limited both the number and the duration of his mound starts for the Lorain County Ironmen in the Prospect League.  Nonetheless, DeDoes came into this game leading the I'Men mound staff both in pitching victories (3) and in ERA (3.46).
To up the ante on this evening, however, the Ironmen team bus broke down en route to Richmond during the day.  The team didn't even pull into McBride Stadium until 7pm for a contest that was scheduled to start at 6:30.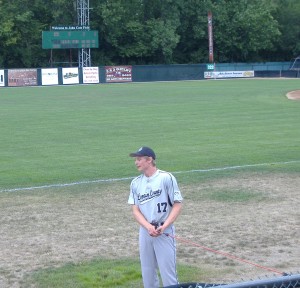 DeDoes had to get right to work in order to push himself through his extensive warmup routine.  He did so, as the first player to step on the field in the visiting gray uniforms.  Helped by the 90-degree-plus heat, he quickly loosened his shoulder for the task ahead.
The first inning saw a Lorain County defensive error, serving as an omen of the team's play on this challenge-fraught night.  While DeDoes allowed nothing else in that first frame, and then retired the initial two hitters in the second, miscues have a way of adding up to no good on a baseball field.  With two out in the second, a weak infield hit was followed by an accidental bloop single.  Here, Mattie made his big mistake for the evening, shaking off his catcher's call for a first-pitch changeup to the Richmond ninth-place hitter.  Ray Delvalle, the little shortstop for the River Rats, sent the here-I-am fastball deep over the leftfield wall.  "Well, that one barely got out," said DeDoes laconically after the game.  Indeed, the ball was crushed about 380 feet, beyond a second wall encircling the park, for a 3-run homer that staked the Rats to an early lead on their home turf.
However, this is where things turned beautiful – if you're a fan of gutsy, poised, athletic performances.  For the next five innings, pitching for a team that really never looked like they wanted to play this game, Mattie DeDoes poured his heart and his soul into his craft.  He allowed two more baserunners the rest of the night, going 7 innings in all (his longest stint of the year).  Using 86 pitches over the course of those seven innings, he threw 59 for strikes; he walked one (only the second free pass DeDoes has issued all season) while striking out three.  In spite of his tender shoulder, he seemed to gain strength as the game went on, making quality pitches with increased frequency when he needed them.
While the Ironmen were able to close the gap to 3-2, they failed to cash in on numerous scoring chances – including the top of the seventh when they had runners on first and third with no out.  Lorain County is not a good-hitting ballclub, and on this night they didn't field well nor run the bases well either.  After Mattie's exit after the seventh, the bullpen surrendered three more runs in the eighth and the final score would read 6-2, Richmond over Lorain County.  All in all, a forgettable game on the surface.
Mattie DeDoes was tagged with the official tough-luck loss, dropping his record to 3-1.  However, this game would ultimately be anything but forgettable.  Seeing this young man stand tall "on the bump" in the face of adversity – pitching not only with courage but with complete joy – was an exhibition of passion that one doesn't always see in sports these days.  Many players, at all levels, are "front-runners;" they love to play, as long as things are going well for them.  Given the set of circumstances he was dealing with, Mattie was truly demonstrating his pure love for pitching a baseball game.  At times, he looked ten feet tall out there on that pitching mound, improvising a visiting solo in front of a stadium that was well-stocked with fans for the home River Rats.
And isn't that how it should be, a player simply in love with the game itself ?  Often, that's not how things are anymore, what with all the emphasis on draft status, on "numbers," and on so many other agendas that are always swirling around in the air.
When it's your own son that you're looking at – and you see just how much he loves what he does, combined with an awareness of the price he has paid out simply for the chance to do "his thing" – well, it makes you proud in a way you didn't really expect.  I was left with a deeper feeling for the 20-year old man-child that I've watched grow up.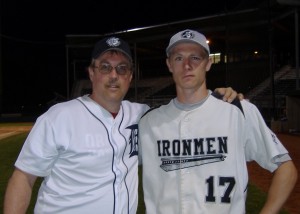 After eight hours of driving just to see a ballgame, and to watch a loss at that, my wife and I were left feeling intensely glad that we had made this nonsensical excursion.  A number of future baseball road trips are still in our future, and we don't know where our son's pitching arm will eventually take him.
But on this night, we were there to not only see, but to feel and experience, why he does what he does.  It has nothing to do with his father's perspectives anymore, not at this point in his career.  It's all about his love, his drive, and his willingness to take that ball and create a performance.  He said to us afterwards, "thanks for coming."  However, while I know that he meant that statement, and he was happy that we were there, he really does this for himself and his own sense of purpose.  I drove back home possessing a new level of respect for my son, for his goals, and for the person that he is becoming.
And that is DEFINITELY how it should be.
BOX SCORE from GAME (opens new window)
PREVIOUS POSTING – Game at Slippery Rock, July 4, 2012