Instrumental Version of "Take Me Out To The Ballgame" To Be Used In Stan Musial Tribute Film
July, 2013 – Producer/Director Tim Reid is also a baseball historian, creating video tributes to noteworthy baseball legends.  Often, his tributes utilize the music video form, combining old photographs and images with film footage.  Reid's work is often published in conjunction with the Hot Springs Baseball Trail, an organization dedicated to the memory of the sport's past.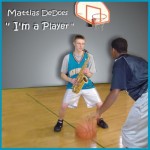 Recently, Reid heard a recording (from 2009) by Mattie & Steve DeDoes of the time-honored baseball anthem, "Take Me Out To The Ballgame" – the classic song written by Jack Norworth and Alfred Von Tilzer.  He contacted the DeDoes' to inquire about using it in an upcoming video tribute to the late Stan Musial, to be debuted at the 2013 induction ceremonies in Cooperstown, New York.  In October of this year, the film will be shown at the unveiling of a plaque to honor Musial in Hot Springs, Arkansas – the birthplace of baseball spring training.

While exciting about the opportunity, the DeDoes' also decided that they wanted to re-record their alto sax / keyboard interpretation.  With baseball prospect Mattie home unexpectedly for the summer due to arm rehabilitation, the father-son pair were able to "step up to the plate" and deliver what they felt was a better recording of the concept that Reid had found to his liking.  "When we listened to our first recording, we could understand why Tim wanted this for his piece on 'Stan The Man'," said Steve, "but we just felt we could execute the idea a little bit better.  After all – Mattie was still in high school when we threw down the initial take (recorded for Mattie's first CD, 'I'm A Player')."
Upon hearing the newly-recorded version, Reid was thrilled.  "A home run !," he enthused, adding, "while I obviously loved the first version I heard, this updated rendition is even more sophisticated, and adds artistic poignancy."

"Take Me Out To The Ballgame" – hear the DeDoes' new recording in .mp3 format

With Mattie "on the shelf" for the summer, sidelined from the Madisonville Pirates and prospect wood-bat baseball because of injury, the tentacles of this musical project provided a welcome connection to the game he loves.  "Obviously, I really miss playing, for the first time in my life," says Oberlin College's team captain, as he points toward a healthy senior collegiate season.  "But Stan Musial is one of my all-time favorites, and I really think he's got to be a favorite of any baseball fan.  He represents the ultimate in what a baseball 'man' truly can be, both in his performance and for what he stands for as an icon to everyone connected with the game.
"We are very honored to be a part of this project, and we very much look forward to seeing Tim's finished video."