An Incredible High School Career
Mattie DeDoes' high school baseball career – in three years of varsity play at Gabriel Richard High School (Ann Arbor), after transferring to the private school from Ann Arbor Pioneer – saw him achieve a remarkable set of records, accumulate a pile of statistics, and lead his team to a trophy case full of championships.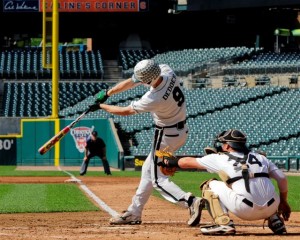 Three Years of Individual Brilliance, as a Pitcher and Hitter
DeDoes was named all-district in his sophomore year (2008), all-district and all-region in his junior year (2009), and then climaxed his career with all-district, all-region, and all-state honors for his senior year (2010).  He was named to the Ann Arbor News all-area team for all three seasons, along with numerous other accolades which included all-conference recognition as a pitcher, as a positional player (mostly as 3B/SS), and hitter.
He is in the Michigan state record books as both a hitter and pitcher.  During his sophomore season, he had a stretch of 15 consecutive hits (second in MHSAA state history) which included his first career home run.  He set school records that year for hits in a season, and achieved a composite .500 batting average.
Beginning his junior season, he and his GR teammates dropped a tough 2-1 game to open the season, and starting pitcher DeDoes took the loss.  It would be the last one of his high school career, as he went on to notch 23 consecutive wins over the next two seasons (also second in MHSAA history) – this stretch included countless clutch performances as a starting pitcher, with games "on the line" in relief, and in championship contests.  He recorded two pitching victories in the same day on a number of occasions, including the 2009 Regionals where he won the semifinal with a clutch 3-inning relief effort and then turned around to hurl a one-hitter as the starting pitcher in the championship game.
Culminating his final high school season in grand style, senior captain DeDoes left no part of the diamond uncovered.  As his team's third baseman when he was not pitching, he hit .473 with five homers and amassed 44 RBI's on the season; however, it was on the mound where he was truly unbeatable.  DeDoes went 12-0 with five saves – both of which led the entire state of Michigan that year.  His final pitching performance was in the state semifinal in Battle Creek, Michigan, where he defeated arch-rival Madison Heights Bishop Foley (for the fourth time in his career – he never lost to MDBF).  That win propelled GR into the state final.
He closed his career with a total 28 victories as a pitcher, which will likely hold up as GR's school record for a very long time.  He will be remembered as the team leader for the "glory years" of Gabriel Richard baseball (see below).
(Mattie DeDoes' High School Statistics)
A Legacy of Team Achievements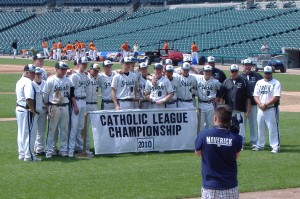 In 2010, Gabriel Richard High School put together a season filled with a lifetime of memories and achievement.  While they finished one win short of their goal of a state championship, it was a dream season for both the Fighting Irish team and for senior captain Mattie DeDoes.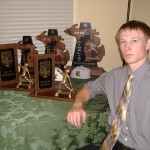 The Irish won their conference (Detroit Catholic League) regular-season and tournament titles (for the second straight year), culminating with a 1-0 win in the championship game at Comerica Park; district and regional titles, and took home their third consecutive Stockbridge tournament trophy.  At Mattie's graduation party (summer 2010), he posed with all the season's hardware (right), the largest trophy being the one for state finalist.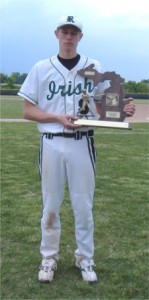 Gabriel Richard went 43-2 on the season.  Those 43 wins were tied for the most in Michigan high school history; the last of those wins came as Mattie pitched GR over Bishop Foley in the state semi-finals for the final victory of his career.  In the state championship game the next day, Mattie's early two-out, two-run single off defending state champs Shepherd and their ace Colton Loomis gave the Irish a 4-0 lead; however, other Irish hurlers could not hold the lead and the season, and Mattie's career, ended with a 13-6 defeat.
That final disappointment was not long remembered, however – too many great experiences, shared with a group of great teammates, became almost immediately a legacy to be treasured.  Together with the trinkets and awards, the games themselves from a great high school career become collectibles.