Remembering and Reflecting Upon True Greatness
Unassuming.  Unaffected.  Unruffled.
For some reason, adjectives that started with "un-" were always used when people described Matt Michaels.  When you encountered Matt – and witnessed his appearance, heard him talk, watched him move – it's true, he really didn't project anything special.
Matt was seventy-nine years old when he died yesterday.  But his wisdom always seemed to be at least twice whatever his age was; and his childlike joy, both for music and for people, somehow existed simultaneously within that sage demeanor.
How does someone achieve that ?  I don't know if I've ever experienced that human quality, that interpersonal magic on many concurrent layers, like I did in being with him.  Matt's personality had the richness of a Bach fugue.  To spend time exploring music together had an intense calm about it; it was like a "reassuring passion."  Sort of like music itself – how do you really explain the sum of its parts, except to immerse yourself in it ?
On the surface, I suppose Matt was sort of "un-"anything.  But when he became engaged – with a task, with a song, with a conversation, with a joke – something inside of him sprung to life.  His passion for "the moment" transcended whatever else was going on.  That was a part – albeit a small one – of what made him such a great musician, such a great teacher, and such a great man.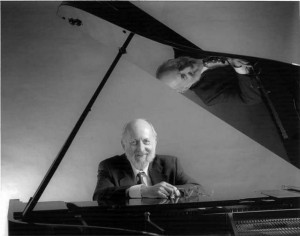 Matt was my mentor.  He taught a lot of people, and I imagine everyone of them today feels they were special to him, as do I.  For me, his musical lessons – which were deep and rich – played out in counterpoint to some of the things that he subtly showed me about myself.
I'm pretty certain that I wouldn't be the musician that I am today without his guidance.  However, I do know that I wouldn't be the teacher, the coach, the husband, and the father that I've become without the perspectives that he gave me, and in the patient way he helped me to examine my own possibilities and obstacles.  Matt never coddled a pupil, make no mistake about it; but he had a way of always letting you know there was more to be learned, if you wanted to.  And for me, I was fortunate enough to take the path of his lessons to a far greater conclusion that went beyond just the musical training that was involved.  I'm glad that I chose to.  With Matt, it was always your choice to make – and he'd be there for you if you opted for the journey.
I've stayed in touch with Matt since the years I studied with him.  And I could write volumes about those prior lessons, and share wonderful anecdotes.  Acclaimed author Mitch Albom (himself a former Matt student) wrote a fine piece in the Detroit Free Press that captured some of Matt's character, wit, personality, and talent.  In fairness to Mitch, however, no writer can adequately describe the size of Matt Michaels' humanity.
And nor can I.  In recent years, I have made an effort to stay connected with Matt.  For a long time, I needed his opinions on my work and his input into my endeavors.  Fortunately for me, I was able to transition to a point where I was able to care more about what was going on with him than with me; I went to hear him play "one more time" on a couple of occasions, and I talked with him enough recently to feel the emotional loss when those golden fingers were no longer able to make their magic, when he faced the fact that he would never again "work the room" as he had so many times.
There was a point recently where I felt some consternation where Matt was concerned, knowing that it was the beginning of the end for him.  I thought, perhaps, that Matt might not know how I much he had meant to me – how I had internalized all of those insights, all of those musical memories and life lessons.  How I thought about him every time I sat at a piano, or made music with my son, Mattie (and yes, there is a naming connection there), or especially, as I became teacher to some new, eager pupil.  Matt wasn't the kind of person who really wanted to hear you indulge in melodrama, whether in your playing or in your speaking.  "Economy," he used to say, one of his favorite words and concepts.
But, like with everything else, I'm sure that he knew.  So here, I'll be "economical" and say that I'm simply one more person that will miss him for the rest of my life.  However, I trust that right now, he's not indulging in this article or any other earthly gestures.
He's sitting with Bill Evans, another legend, at a piano somewhere – talking about harmony with a passion that I believe only those two could.  That will be an unbelievable dialogue, an unreal exchange of unrestrained joy.
Matt is now unencumbered by any physical limitations.
S.D.
November 3, 2011
(Read Matt's obituary in the Detroit News)  /  (Read Mitch Albom's piece, if you haven't done so already)