Richard Baseball Does Detroit, Wins CHSL (Again) in Overtime
by Steve DeDoes for FGR Baseball (originally published at fgrbaseball.com)
May 26, 2010 – The Ann Arbor Gabriel Richard baseball team finally got to play on the big stage, after being denied the chance to earn their 2009 championship at Comerica Park in Detroit.  For 2010, however, Fighting Irish players, coaches, parents, and fans savored the opportunity to be at the home of the Detroit Tigers to play the 2010 Catholic League title game on a beautiful Wednesday morning in the city, and they showed up with cameras ready and spirits high.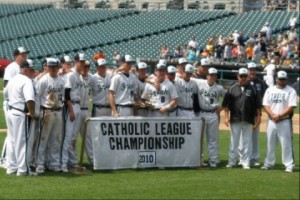 And just as in 2009, the contest turned into an extra-inning pitchers' duel.  This one was scoreless through eight and one-half innings before Gabriel Richard came through in the bottom of the ninth inning to defeat Madison Heights Bishop Foley, 1-0.  A jubilant green-and-white squad danced on the field where their heroes play, and held aloft their second consecutive CHSL championship trophy.
Bishop Foley's Jeff Schalk and Gabriel Richard's Chris Ostrowski matched each other pitch-for-pitch, strikeout-for-strikeout.  Playing under Catholic League ("3-2″) count rules, each pitcher racked up 14 K's over their nine innings of work.  However, the Fighting Irish–after being denied in the third, fourth, and eighth innings when they had great scoring chances–finally broke through in the bottom of the ninth when valiant senior Mattie DeDoes led off with a single, gave way to substitute runner Tommy Repovz, and saw Repovz cross the plate with the winning run after Joey Birchler grittily sacrified Repovz to second and Nolan Breymaier delivered him with a clutch two-out, game-winning hit.  The victory party could begin.
The very first inning of this game served notice for what was to come.  The Ventures' best scoring opportunity came in top of the first, when a one-out single by Brad Schalk was followed by Ostrowski hitting Dan Zuchowski with a pitch.  Junior catcher Conor Dishman, however, cut down Schalk on a steal attempt with a strike to third baseman DeDoes.  Ostrowski struck out Jeff Schalk, and after the pitching Schalk brother turned around and K'd three Richard hitters in the home half of the first (around a Dishman single), the duel was clearly on.
Both teams went in order in the second inning, and Foley's opportunity to mount a threat in the third ended when an over-zealous Matt Sheehan turned for second as he touched first base on an errant Irish throw.  Dishman, backing up the play, cut down Sheehan with a throw to second baseman Matt Wagner, who applied the tag.
DeDoes led off the third.  With his future college coach in attendance and looking on, he swatted a double down into the left-field corner to give GR an excellent scoring opportunity.  However, a popped-up bunt attempt turned into a double play.  Irish fans, their numbers bolstered by the school administration's "day-off" edict, turned wistful at the lost chance when Dennis Olszewski then reached first on a hard grounder that eluded the Foley shortstop, and Dishman followed with his second hit; Breymaier's fly out to center then ended the rally.
Ostrowski then continued his mound takeover, and the Ventures had little opportunity to capitalize.  He allowed a two-out double to Zuchowski in the sixth, but ended that inning with another strikeout.  Ostrowski's teammates, meanwhile, concocted another threat in the fourth when Donnie Eaton singled with one out and Justin Goike added another hit with two down.  DeDoes eyed heroics, but was walked; pinch-hitter extraordinaire Aaron Cowhy found himself added to Schalk's "K-belt" when the Foley pitcher got a key strikeout with the bases loaded.
Dishman had a one-out single in the fifth, but Schalk bore down again on GR hitters.  Junior Mike Goike made a pinch-hitting appearance for his brother in the sixth, but was part of a 1-2-3 inning by Schalk.  In the seventh, Irish coach Greg Lenhoff tried for some "senior co-captain magic" with DeDoes leading off; however, his long belt to right-center was hauled in – but was followed by fellow senior Tom White being hit by a pitch.  After Schalk struck out the next two Irish hitters, the game moved into extra innings–still scoreless.  Helping out defensively were junior J.P. Kelly and freshman Myles Lockridge, who saw action in left field for the Irish.
As Ostrowski sailed through the seventh and eighth, his mates looked like they just might win it in the bottom of the eighth.  With one out, Ostrowski walked and Jon Gragg came in to run.  Gragg was eliminated by forceout on Donnie Eaton's ground ball to third, but Eaton beat the relay to first.  Wagner then notched a base hit, and his single moved Eaton to third.  However, Schalk reached back for yet another strikeout.  The Irish faithful were nervous; this game was in danger of being suspended, to allow subsequent CHSL games to be played.
Up stepped DeDoes, who had a bead on Schalk all day long.  He smacked the first pitch into centerfield, rounded first, and trotted off to an ovation as Repovz entered to run for him; DeDoes also was readying to pitch the tenth should the game continue.  Birchler then got the sacrifice bunt down; Olszewski was intentionally walked, but the next Irish hitter struck out.  Junior Breymaier, however, hit one past the diving Bishop Foley third baseman and classmate Repovz turned the bag and headed for home.
He was met by his exultant teammates, who then proudly stood on the field to accept the CHSL trophy and watch an Irish-dominated awards ceremony.  Along with four All-Catholic selections (DeDoes, Dishman, Eaton, and Ostrowski), four All-Division selections (Breymaier, J.Goike, Olszewski, and Wagner), an all-academic choice (White), Coach Lenhoff accepted the Coach-of-the-Year honors and Gabriel Richard's Josh Herbeck (football/basketball) was named CHSL Athlete-of-the-Year.  Irish players, coaches, and families then headed to the Hockeytown Cafe across the street for a satisfying conclusion.
A sizable Irish fan contigent looked small in the vastness of a major-league ballpark; however, they heartily applauded their sons, classmates, students, and friends.  Seniors White and DeDoes accept their diplomas at graduation on May 27; then, the Irish turn their attention toward the state playoffs.  A doubleheader against Detroit Western on Sunday, May 30 will provide a "full-count" tuneup before district play begins on June 1.