Hurls Two Shutouts, Garners Conference "Pitcher of The Week" Honors
On Friday, March 25th of 2011, Mattie DeDoes hopped on a jet plane for the first time in his life.  He and his Oberlin baseball teammates headed for the Phoenix, Arizona area for an intense week of baseball in a place where – in late March, at least – the sun is always shining.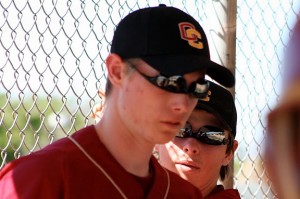 Oberlin would go on to play 11 ballgames over the next six days.  They won eight of the eleven, and Mattie DeDoes was one of the top performers of the trip.
Mattie had two pitching starts for the Yeomen, and both were brilliant.  In the first game, on March 28, Mattie took the ball and mounted the hill to face Gustavus Adolphus College. Earlier that day, Oberlin had defeated G-A by an 11-6 score.
DeDoes threw five shutout innings in a pitchers' duel with the Gusties' Bryce Bintzler–allowing two hits and three walks–then yielded the mound to senior teammate Phil Brua, who put the finishing touches on a 2-0 shutout.
Three days later, DeDoes got the ball again in a 9-inning game against Thomas College.  The previous day, Oberlin had suffered two frustrating losses to Williams College, and they needed to turn things around before heading home.
Mattie was magnificent as he went 6 2/3 innings, pitching shutout ball again.  In a 102-pitch outing, he allowed just three hits, while striking out four Thomas hitters.  Fellow Obie freshman Mike McDonald went the final 2 1/3 innings, allowing two tallies as Oberlin ended up on top by a 6-2 score.
For his two shutout starts, Mattie DeDoes was named Pitcher of the Week in the North Coast Athletic Conference (NCAC).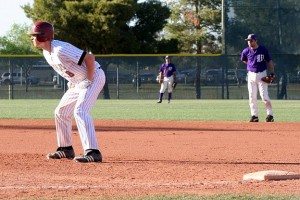 (**Thanks to Laurie Brua and the Brua family for the photos from Phoenix)