Kick off the summer swing on Thursday, June 11 with the Saline Big Band !!!  Mattie DeDoes (lead alto) and Steve DeDoes (piano) will be featured as this ensemble of 40+ years – and counting – makes its annual appearance at the Saline Summer Concert Series.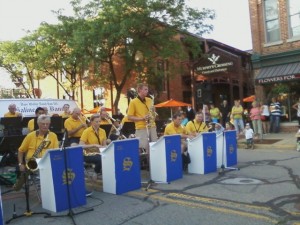 Mattie's solos will undoubtedly provide many of the evening's high points.  In addition, Steve will premiere a great new arrangement written specifically for the SBB, of the classic tune "Ain't That A Kick In The Head."  This song was originally recorded by Dean Martin, and was also featured with Deano singing it in the original version of the film "Ocean's Eleven."  Steve's exciting arrangement features all of the players in the band in counterpoint with the lead vocal, in addition to an improvisational exchange between four soloists in the group, culminating with the lead alto.
To read more about the Saline Big Band, and to access a couple of performance videos, click here.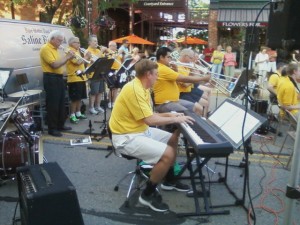 The concert will take place outdoors in the middle of downtown Saline, at the intersection of Michigan Avenue (US 12) and Ann Arbor Street/Saline Rd.
While the concert will start at 7pm, the SBB's performance will be preceded by another group who will perform a set for children.  Expect the SBB to start their set after 7:45pm.