October 9, 2011 – A beautiful fall day in Oberlin, Ohio…eighty degrees and bright sunshine…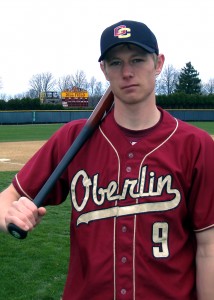 Having recovered sufficiently from his recent illness, Mattie DeDoes helped his Oberlin College Yeomen to a pair of scrimmage victories over league rival Hiram College.  These games represented the culmination of the fall practice season for Oberlin's squad.
In the first game, Mattie took the mound for three innings, and hurled three no-hit frames to boost the Yeo's to a 5-2 win.
Then, in the second of the two nine-inning affairs, he entered the game midway through at third base.  With the game tied, he rocketed an RBI double and scored, helping Oberlin achieve a second 5-2 victory.
Baseball work and preparation for the 2012 season will begin to find its way indoors as fall turns to winter.  The physics major also will hit the books hard, and he'll keep those horn chops up for upcoming recording projects.  His sax work on the WJR theme, and some other musical projects, will take place during Oberlin College's upcoming fall break (Oct. 24-28).