DeDoes Records 2nd Win of Season, Working Through Shoulder Issues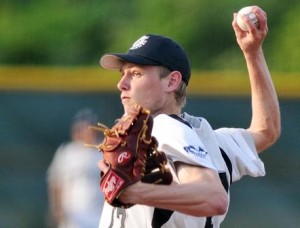 June 23, 2012 – In his first game action in eighteen days, Mattie DeDoes returned to the mound for the Lorain County Ironmen.  After two outstanding starts to begin the 2012 season, DeDoes was sidelined due to tendonitis in his pitching shoulder.
On a perfect Saturday night in Lorain, DeDoes shut out the Slippery Rock Sliders through five innings, throwing 66 pitches in a limited outing.  The Ann Arbor righty scattered three hits, while not walking a batter.  In picking up his second win of the season, DeDoes helped the Ironmen break a nine-game losing skid; despite the absence, Mattie is the team leader in pitching victories, as well as leading the mound staff with a 1.69 earned run average.
While the outing was a successful one, DeDoes' return is still a work in progress.  While he was able to stymie the Slider bats on this evening, he did so with less than his usual sharpness, and recorded just a single strikeout in the process.
Ironmen manager Joe Rhomberg is being cautious with Mattie, and expects to limit his pitches in his next outing as well.  "We want him (DeDoes) to be healthy for the second half of the season," Rhomberg said.  "We're basically 'out of it' for the first half title, and we'd like to have Mattie at full speed when we re-start the playoff chase."  Rhomberg emphasizes that he will always err on the side of caution with young players.  "With all these guys, my position is to do what's best for them.  We want to compete, of course, but I'm not going to jeopardize anyone's future in the process."
DeDoes is expected to start again during the upcoming home series with West Virginia, either on Saturday. June 30 or on Sunday, July 1.
STORY in LORAIN MORNING JOURNAL (opens new window)
BOX SCORE from GAME (opens new window)
PREVIOUS POSTING – Game vs. Chillicothe, June 5, 2012