A "Reemergence" of a Musical Legacy Will Take Place In August 27 Event (The Yellow Barn, Ann Arbor, Michigan)
(note: this article was published in a University of Michigan overview, "Arts at Michigan" in August 2015)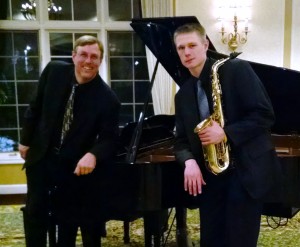 While a lifelong musician with countless credits as a composer, arranger, producer, and performer – the apogee of Steve DeDoes' career occurred during the 1990's.  In and around that timeframe, the now-55-year-old DeDoes served as music director for numerous shows and theatrical organizations (Second City, national tours including "Joseph"); created noteworthy broadcast themes, CDs, and soundtracks (including the acclaimed "Michigan Christmas Air"); and took on some large-scale film and recording endeavors (USAF film "Project: GoldPan", Move & Learn CD volumes, GMP music libraries).
Now, after recent years saw his musical pursuits share time with family and other professional interests, Steve resurfaces with what he calls "The Helmholtz Project."  An August 27, 2015 concert will conjoin with an exciting new CD endeavor, as this longtime musical craftsman gets down to music that HE wants to put out.  Original songs, distinctive arrangements, and captivating grooves will combine with layers of diverse talent and showmanship — both for the live event and in the recording studio.
Helmholtz Watson was a character in Aldous Huxley's momentous, dystopic novel "Brave New World".  As a protagonist in that story, Helmholtz longed to pursue a more artistic direction for his craft (writing), in part by opting for a life removed from the mainstream – where he no longer would have to conform to the expectations of the society.  At the apex of Huxley's story, it had become clear that Helmholtz Watson (and his friend Bernard Marx as well) would no longer "fit" into the feel-good community of the future…they were each to be banished to a remote island due to their inability to embrace a "perfect," uniform community.  While Bernard is aghast at the prospect of departure, Helmholtz embraces it.  In fact, he wants to be sent not to a tropical paradise, but to the most miserable place possible.  "I believe that one would write better," he muses.
Steve DeDoes isn't seeking solitude, to be ostracized, or to turn his back on the modern commercialized music scene.  Nonetheless, he believes that he "writes better" than ever – as he seeks to build upon those past successes.  The "Helmholtz Project" represents a focus upon a creative musical direction that is both personal and meaningful.  Steve is committed to producing some new artistic avenues that challenge his composition and performing chops, but ultimately reach dramatic new heights for his listeners.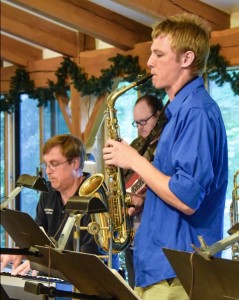 For the August 27 show, the producer and keyboardist is thrilled to be able to tap a number of great area instrumentalists.  First and foremost, his band will feature dynamic drummer James Mobley, versatile bassist Leer Sobie, and alto sax sensation Mattie DeDoes.  This core ensemble will be joined for a few electric charts by the North Coast Horns, with Mattie's big solo sound combining with trumpeter Art Solomon, tenor saxophonist Louis Johnson, and trombonist Brian Becker.  Ann Arbor guitarist Jim Cooney is also in the evening's lineup as a featured guest.  The night will culminate in a special treat — "Motor City Beat," a legendary Detroit-based funk band led by Johnson and with whom the DeDoes' play, will heat up this Thursday evening summer air as a presentation of creative and passionate music climaxes with some serious jams.

Concert repertoire will also feature some songs from DeDoes' planned CD, "Songs For A Blue Planet".  As this recording endeavor gathers momentum, a crowdfunding campaign will be developing in order to help fund the project.
Here is an excerpt from one of the tracks:

hear a clip from the song,
"(On Some) Blue Planet" (opens new window) !
Copyright S.DeDoes/Full Score & 7 Music
To hear and see other examples of Steve DeDoes' prior musical and media productions, visit the "Samples" page of this website.
Concert Details:
Time:  August 27, 2015, 7:30pm
Venue:  The Yellow Barn, 416 W. Huron, Ann Arbor, Michigan
Admission:  $25, limited tickets to be available at the event
Contact:  Steve DeDoes, Steve DeDoes Music & Media Productions