1st Pitching "W" of the Season for DeDoes; Shoulder Stiffness Truncates Dominant Outing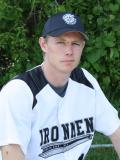 June 5, 2012 – Making his second pitching start of the young Prospect League season, Mattie DeDoes found himself staring at a few obstacles.  The home Chillicothe Paints had drubbed Lorain County pitching the night before; his Ironmen were in a four-game losing skid; and the wind at V.A. Memorial Stadium on was blowin' out.
None of these presented a problem for the young righthander, at least not at the start.  DeDoes blew through the Paint lineup for the game's first four innings, allowing just one hit in the top of the fourth.  He recorded two strikeouts while needing just 42 pitches to gloss over the Paint hitters.  His Lorain County teammates, meanwhile, awarded him a nice six-run cushion with which to work.  After a great debut the week before, it was looking like "business as usual" for the Oberlin College ace.
In the fifth, however, DeDoes was feeling a touch of stiffness in his throwing shoulder.  Back during the collegiate season, a stretch of overwork brought on the first symptoms of any kind for a pitcher and thrower who has always been able to maintain a heavy workload.
In this summer contest against quality opposition, DeDoes' slight loss of his sharp edge resulted in two quick solo homers by the Paints in the fifth frame.  The first blast was by Chillicothe shortstop Dan Zuchowski (U.Toledo), a rival from Mattie's high school days, who pulled the first pitch of the fifth down the right-field line to break up the shutout.
While yielding another home run on a hanging curve ball, DeDoes still dispatched the Paints quickly in the fifth, and had a total pitch count of only 54 – but with a 6-2 lead, and an able bullpen ready to go, DeDoes and manager Joe Rhomberg opted to end the night's work for the starter.  Relievers Zach Speer (Walsh College) and Spencer Bryant (Kent State) finished up the gem, each pitching two shutout innings, and the losing streak was over.
DeDoes' had another fine pitching line:  5 innings pitched, 2 runs allowed (both earned), 3 strikeouts, no walks, 3 hits allowed, 37 of 54 pitches for strikes.  Of the 18 hitters he faced, he recorded first-pitch strikes on 14.
Mattie's next scheduled start is slated to come against Richmond next week (either Tuesday 6/12 or Wednesday 6/13) back at the Pipeyard.  Team trainers, along with input from the Chillicothe trainer after this game, feel that any injury to DeDoes' throwing shoulder is not serious.  Let's hope that, indeed, this is the case and that Mattie comes out firing in his next stint.  Otherwise, if Mattie ends up faltering on "Dollar Beer Night" (Wed.), his parents – along with Lorain County fans – might be resorting to drink…
STORY in LORAIN MORNING JOURNAL (opens new window)
BOX SCORE from GAME (opens new window)
PREVIOUS POSTING – Opening Night vs. Slippery Rock, May 31, 2012