A Planetary Trip – and Back To Earth
This collection of scintillating soundtracks is published for the first time here as an album for listeners to enjoy.  Composer Steve DeDoes takes you through the solar system and back to the home planet, through a series of complex textures, captivating modern ideas, catchy grooves, and resonant themes.  All of these tracks have been heard "out there" before:  in broadcast themes, radio airplay, and as a part of scientific/educational projects.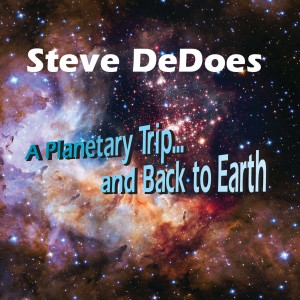 Cover Artwork:  Tom Petiet
Photo: NASA (Hubble Space Telescope)
Links to Online Stores & Streaming:
Apple Music:  Link to stream "A Planetary Trip" from Apple Music 
iTunes:  Link to "A Planetary Trip" at iTunes store (complete album, individual tracks)
Amazon Music:  Link to "A Planetary Trip" at Amazon.com (complete album, individual tracks; you can also purchase a CD on Amazon.com)
Spotify:  Link to "A Planetary Trip" album page on Spotify
("A Planetary Trip" is also available through many more music services; as we get direct links, we'll put 'em up here.)

Track List
note: tracks 2-10 comprise the "Planetary Trip" (read more about this music below)
Magic In The Night (theme from Doug Henning television special; received Billboard Magazine Songwriting awards)
Heliocentric Fanfare -> Acceleration To Mercury
Trapped Heat on Venus
The Earth Is Home
Red Planet Techno
The Gravity of Jupiter
Traversing the Rings of Saturn
Dodgeball With Uranus' Moons
Neptune Mysteries
Beyond Pluto, Beyond Holst
Come Take A Trip on My Airship
Cutting Edge (theme to "The Internet Advisor," nationally-syndicated program on WJR Radio
Phases (#5 on national airplay lists, 1989)
The More I Need To Know (theme song for "TerraViva! digital earth products)
credits for contributing featured artists:  Sue Gillis, lead vocals on tracks 1, 11; Laura Lyons, lead vocals on track 1; Mattie DeDoes, alto saxophone on track 12; Kerstin Allvin, harp on track 13; Jake Reichbart, guitar on track 10.  Special vocal performances by April Tini (lead vocal) and "The Future Voices of Change" on track 14.
Composer credits: all songs by Steve DeDoes, Full Score & 7 Music (BMI), except tracks 1, 13 composed by S.DeDoes/K.Allvin; track 11 composed (in 1904) by George Evans/Ren Shields.
Background
In the years 1914-16, English composer Gustav Holst composed his instrumental suite "The Planets," now a staple of orchestral concert repertoire.
In "A Planetary Trip", Steve DeDoes pays clever homage to Holst in his creation of contemporary expressions for a trip through the solar system.  And, in the rest of this album, other noteworthy songs and compositions present themes and subjects that fit with an unusual musical texture – influenced by techno beats, hip-hop rhythms, and orchestral colors – while bringing the listener "back to Earth" in enjoyable ways.
The "Planets" tracks were produced in 2001 as a part of a CD, "Galaxy Magic," that provided the soundtrack for an educational package from Texas-based company Move&Learn. Steve remembers his approach to this project:
"First of all, they (the client) wanted music that would encourage movement," the composer recalls.  "However, they also wanted tracks that would 'stand up' to repeated listening.  I couldn't help but think about the famous Holst work; I thought that it would be not only musically interesting, but would create additional value, to employ some of the musical ideas from the an important classical piece.  I thought that it would be cool if this served as a sort of introduction for a young listener; where down the line, when they first heard Holst's 'Mars', they would ask themselves, 'where have I heard this before ?' "
For the complete "trip", though, DeDoes also created tracks the represent the star at the heart of it all ("Heliocentric Fanfare"); Earth ("The Earth Is Home"); and Pluto.  "When I wrote these pieces, Pluto was still 'officially' accorded status as a planet," DeDoes says.  In addition, DeDoes' mini-suite of synth/orchestral textures was placed in "solar system order"; Holst's work plays out in a sort of "distance from earth" sequence.
Track #11 ("Come Take A Trip on My Airship") was also part of the "Galaxy Magic" CD project.  In 1999, Steve DeDoes served as musical director/pianist for Meadowbrook Theatre's production of "Tin Types" a musical revue that highlighted music from the early 20th century.  This delightful waltz is sung beautifully here by Sue Gillis; the vocal floats above a captivating treatment that features synths, whistles, and a bouncy rhythmic arrangement.
Two other instrumental tracks, "Cutting Edge" and "Phases", provide some ear-catching instrumental variety while adding to the overall theme.  In "Cutting Edge" Mattie DeDoes' saxophone makes a dynamic statement in counterpoint with an infectious techno-rock foundation.  This longer version updates, and expands upon, the 60-second theme music that has served as the musical "hook" for the nationally-syndicated program, "The WJR Internet Advisor" since 1998.  This amalgam of techno-rock-jazz was an approach that modernized the theme in 2011.
"Phases" (written and produced for and with harpist Kerstin Allvin) was the opening track and most-played number on Allvin's CD "Origins" which hit national airplay and distribution charts in the late 1980's.  The instrumental CD contained other compositions by Steve DeDoes as well.
Two vocal numbers serve as "bookends" for the album.  "Magic In The Night" was originally composed as an opening number for a television special; this particular recording, with Sue Gillis joined by Laura Lyons as a lead duet, was made for the "Galaxy Magic" project.  And, for an uplifting and thoughtful conclusion to the "trip" – the anthem "The More I Need To Know" features lead vocalist April Tini joined by a children's chorus.  (NOTE: "Magic" received 1991 award recognition from Billboard Magazine).
For the ultimate "Trip," the composer recommends that listeners enjoy the album in sequence.  "The 'planetary' tracks all build upon one another," DeDoes says.  "And then, the additional numbers do indeed 'bring it home'."
You can find "A Planetary Trip – and Back to Earth" at your favorite music store.  Here are some direct links:
Apple Music:  Link to stream "A Planetary Trip" from Apple Music 
iTunes:  Link to "A Planetary Trip" at iTunes store (complete album, individual tracks)
Amazon Music:  Link to "A Planetary Trip" at Amazon.com (complete album, individual tracks)
Spotify:  Link to "A Planetary Trip" album page on Spotify
("A Planetary Trip" is also available through many more music services; as we get direct links, we'll put 'em up here.)