(go to home page to access all our album releases)
"Outside The Lines" Keeps Winning New Listeners
Young saxophone artist Mattias DeDoes puts forth some serious game in a brand-new album. "Outside The Lines" (2018) presents an ear-catching variety of original material, designed for broad commercial and artistic appeal. Whether your favorite style is jazz, funk, pop, rock, hip-hop, chamber music, or electronic textures, you'll hear something that you'll connect to immediately…and then, you'll find yourself "tappin' out" to the rest of this great album !
"Outside The Lines" shows Mattie DeDoes to be a unique talent. His approach is based upon the FUN he has had in playing his saxophone for his entire young life. These tunes and arrangements provide so much musical quality – but the overriding highlight remains the solo trips on which Mattie takes his listeners. His improvisations always create a meaningful conversation, where accessible ideas culminate in surprising, yet satisfying conclusions.
Many fans & listeners have gone "Outside The Lines" with Mattie since the February, 2018 release of this album. You'll want to IMMEDIATELY add to your collection, or playlist – and, you'll want to immediately share this with others !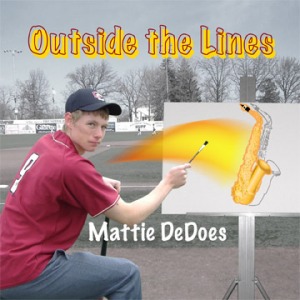 Cover Artwork: Tom Petiet / Concept Studio

TRACK LIST || BACKGROUND || DEDICATION
Links for CDs, Online Stores, & Streaming:
Tracks from "Outside The Lines" came online in early 2018 on Apple Music, iTunes, Amazon Music, Spotify, and many other stores and streaming services. Click on this link, and go to this page, to access "Outside The Lines" online and/or to order a CD !
Track List

(note: read more about the project, the music, and some of the history, below)
Happy (S.DeDoes arrangement of the hit song by Pharrell Williams) – available on CD *only*
Slow Burn (hear a clip – new window)
Overdrive (hear a clip – new window)
UnSure (featuring a vocal duet by April Tini & Steve DeDoes)
IceMan (written in tribute to NBA legend George "IceMan" Gervin)
When Sunny Gets Blue – available on CD *only*
"Never Givin' Up": "Playin' School" as a College Athlete (featuring rapper "Multi DuDe")
(hear a clip – new window)
Everything's Alright (arranged by S.D. for jazz sextet) – available on CD *only*
Dance In D (chamber music piece for alto saxophone & piano)
I Plead the 4th (with The North Coast Horns)
Cutting Edge (theme to the radio program, "The WJR Internet Advisor" – since 2011)
Guest Artists:
Vocals – Track 4 (duet) April Tini, Steve DeDoes; Track 7 (rap) "MultiDuDe"
The "North Coast Horns" (tracks 8 &10) is a crack 4-horn ensemble that performs its own repertoire and events, and also regularly joins forces with Motor City Beat and other groups. In the recording of "I Plead the 4th", Mattie DeDoes (alto sax) is joined by Louis Johnson (tenor sax), with Keith Stevens on trumpet & trombone.
Steve DeDoes, Piano/Keyboard (all tracks);
David Taylor, Drums (track 8);
Ben Pernick, guitar (track 3); handclaps (1) & finger snaps (10) by David Wolter & the Big Band boyz.
Composer/Arranger credits: all tracks composed and arranged by Steve DeDoes, Full Score & 7 Music (BMI), except the following: tracks 3 & 7 ("Overdrive") composed by Mattie DeDoes/Steve DeDoes, MattieHorn Music (BMI). "Happy" was originally written by P.Williams; "When Sunny Gets Blue" by M.Fisher/J.Segal; and "Everything's Alright" by A.L.Webber/T.Rice.
All music recorded & produced at DeDoes Music Productions, Ann Arbor, Michigan.
Additional support from Eric Wojahn & Solid Sound Studios (Ann Arbor), on tracks 6 & 8.
Background
While he used the title "Outside The Lines" in a limited-edition CD recorded during his college years, the 2018 "OTL" takes things much further. It presents a range entirely original material that is designed for broad commerical appeal, and also covers an impressive spectrum of artistic styles.
The CD opens with "Happy", an instrumental version of the hit song by Pharrell Williams (also heard in the movie "Despicable Me 2"). more…
The next song, "Slow Burn," is a remake of a tune written by Steve DeDoes that was originally titled "In The Zone." Mattie's new saxophone interpretation truly does a "slow burn" over a set of spacious, rhythmic, funky grooves. In Track 3, the hard-driving rock original "Overdrive" – a compositional collaboration by both DeDoes' that has also been recorded before, and performed numerous times in concert appearances – continues to "set the tone" for the variety on this album. A guitar-based "earworm" provides the basis for the layers that
From those two sax features, the haunting vocal duet "UnSure" begins with Mattie's improvisational invitation. The great voice of April Tini (a longtime DeDoes collaborator) joins with Steve in a duet that speaks to the nature of love relationships in modern times. Steve wrote this memorable song as part of a live theatrical show, but it has never been recorded. We are very anxious to see where this single might go, now that we're releasing it…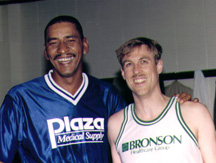 Back in the 1990's, Steve DeDoes was working constantly as a music director, pianist, and producer. But, when he had some spare time, he was playin' basketball. Steve actually got to take the court with George "IceMan" Gervin in a charity game in his hometown of Kalamazoo, Michigan; Mattie was a toddler at the time. For this album, we're proud to include this smooth, funk-based musical expression that illustrates so well the smooth, funk-based game that the real "IceMan" brought to the ABA and NBA in his career.
And, in staying with the athletic vibe, the song "Never Givin' Up" (track #7) – is Mattie's personal expression of his college athletic life. Former Ohio State quarterback Cardale Jones was once infamously quoted as saying, "We ain't come to 'play school'." As a standout collegiate baseball pitcher and team captain at Oberlin College (2010-2014), Mattie did, in his words, "play school" as he thoroughly enjoyed life there as a student-athlete; he DID get his degree in physics, at an institution of high academic renown. However, as this incredible hip-hop/jazz shout-out attests, he immersed himself in the experience of being a part of the athletic side of college. Now, this catchy track – combined with an incredible bit of rhythmic poetry – serve as a joyous and emotional statement about what it means to "love the game," and to put forth the high commitment to a sport while livin' the life in college.
"Everything's Alright" more…
"Dance in D" is a chamber music piece, written for alto saxophone and piano. However, it was composed explicitly to provide movement, form, and inspiration for serious dance expression. "Dance in D" was created for DeeDee Bourdo, a collegiate dancer at Sam Houston State University in Texas – and another cousin/niece of the DeDoes' (see "Dedication", below). "Dance In D" incorporates the rhythmic influences of jazz & pop, but utilizes many other compositional tactics (metric overlay, chordal counterpoint, more) to achieve a captivating and satisfying arc. Here, Mattie DeDoes explores a different approach to his saxophone sound – paying particular attention to the shape of the notated musical phrase, while tapping the energy that he exudes when he is playing a hot, improvisational solo.
The "North Coast Horns" is the longtime monicker for Steve DeDoes' use of brass sections, both in live groups and in recording situations. Whether in pop, rock, or jazz settings, from full "big band" to small combos, Steve absolutely loves to explore and expand the horn band sound. In the original composition "I Plead the 4th," a four-horn package (alto & tenor sax, trumpet, trombone) comes front & center over a classic funk-jazz rhythm section (organ, guitar, piano, bass, and drums). The title of the song refers to not only the 4-instrument combinations that are utilized in this piece, but also in the use of the melodic interval of a "fourth" in so many of the lines and textures throughout this piece. As a result of this approach, you'll hear funk-based ideas that bite and groove — but also are intriguing and unusual as the story of the arrangement plays out.
And lastly — after you've heard funk-jazz, rock, pop, smooth jazz, classical — the track "Cutting Edge" represents another musical twist for Mattie DeDoes. This song – or, more specifically, a 60-second version of it – has served as the musical theme for the radio/webcast program "The (WJR) Internet Advisor" for years. In 2011, Steve rearranged the long-running theme to have a rock/techno basis, and employed Mattie's sax against that metallic, urban beat. In a longer version of the track here, Mattie heads off in some improvisational directions, along with some synthesizer solos; the end result is a musical trip that expands upon the thematic riffs.
We sincerely hope that you'll enjoy the unique journey of "Outside The Lines." Above all else, this product is designed to delight our audience, employing a broad range of styles and genres in presenting music that you'll want to hear over and over. In expressing his pride in this album presentation, the featured artist recently spoke about the unusual collection that "Outside The Lines" represents. Mattie says, "as you listen to this, you're going to discover not only what you already like – but you'll also find that you like something else here that will surprise you !"

Dedication
With the coincidence of our February 2018 release, we dedicate this album to the peerless ice skater Madison Hubbell, who is Mattie's cousin (and Steve's niece). Madison is headed to the 2018 Olympic Games after winning the gold medal in ice dance at the recent U.S. Figure Skating Championships…
After years of the judges being "UnSure" about Madison's brillance, she and her "IceMan" partner Zach Donohue captured the gold after a performance that did a "Slow Burn" on the ice. This pair has been on the "Cutting Edge" for some time, after "Never Givin' Up" – and we expect great things in PyeongChang, South Korea, as they kick their partnership into "Overdrive" !!!
( …check out their Sports Illustrated article & photo essay on si.com )