Mattie DeDoes Outstanding in Debut With Lorain County Ironmen; Team Drops Home Opener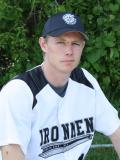 May 31, 2012 – 20-yr. old collegiate pitcher Mattie DeDoes took the ball and the mound for his debut performance with the Lorain County Ironmen on a cool Thursday evening at "The Pipeyard."  It was the team's first 2012 game in their home venue, and DeDoes' first appearance for the Prospect League squad.  While the Ironmen eventually dropped their home opener by a 6-3 score, DeDoes was in total command in his six innings of work; when he left the game, the score between Lorain County and Slippery Rock was tied at 1-1.
The other story of the game was the Ironmen's failure to score against Jim Miller, the starter for Slippery Rock.  Miller was wild early, and issued six walks in addition to three hits.  And in three separate innings throughout this contest, the Ironmen had the bases loaded (twice with no outs) and failed to score.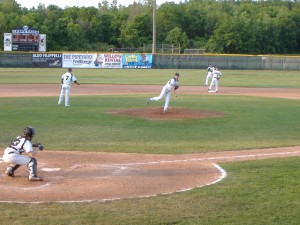 Meanwhile, Ironmen starter DeDoes was scattering six singles (only one hard-hit) while striking out four Slider batters.  The only walk he allowed, leading off the fourth, resulted in the only run scored against him when that runner plated after a one-out pop fly single behind third base.  DeDoes was around the plate all night, hitting corners and keeping Slippery Rock hitters off-balance with change-of-speed.  DeDoes threw 90 pitches overall, and 63 of them were strikes – a fine 71% rate.

In the later innings, the bullpen gave up five runs and the Ironmen bats remained weak – resulting in the team's first loss of the season after two wins on the road.  For DeDoes, it was a proud first appearance with his new team.  "I had a lot of fun out there," he said afterward, but the hurler was disappointed in the eventual loss of the game.  "I wish we'd come out on top.  Even if I don't get the "W" (as winning pitcher), I like when my starts result in wins."
He displayed absolute cool on a cool night in Lorain, Ohio – coming out from behind the curtain with poise and precision, and hopefully setting the stage for a great summer of moundwork ahead.
STORY in LORAIN MORNING JOURNAL (opens new window)
BOX SCORE from GAME (opens new window)