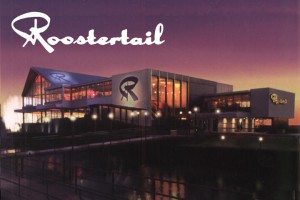 February 14, 2015 – It was absolutely frigid outside, and the Detroit River was frozen solid.  But inside The Roostertail, one of Detroit's most prominent entertainment venues, Valentine's Day was a warm, swinging', and at times, hot-rockin' affair as the DeDoes Quartet, the Saline Big Band, and special guest Martha Reeves created the soundtrack for an afternoon to remember.  "Eat – Drink – Love" was an invitation-only party hosted by Tom and Linda Schoenith, longtime impresarios of this prominent Detroit club and landmark.
The Saline Big Band, with Mattie DeDoes as featured sax soloist and Steve DeDoes at the piano, presented four sets of solid sound – blowing through classic big band charts from the 40's up to the present, as well as contemporary repertoire and arrangements of modern pop tunes.  Mattie's searing alto leads on "Angel Eyes," "Through The Eyes of Love," and many other solos were a musical highlight of the afternoon, evoking rousing ovations from an audience of approximately 500 people.  The band's great repertoire served this occasion extremely well, providing music that was both topical for the event as well as great for those in attendance who wanted to dance.
And when the Saline Big Band was resting, the DeDoes' were not.  Joined by Leer Sobie (bass) and James Mobley (drums), Mattie and Steve presented three more musical sets of contemporary pop-jazz.  Songs like "Pick Up The Pieces," the Doobie Brothers' "Takin' It To The Streets," Michael Jackson's "Human Nature," the Police's "Every Little Thing She Does Is Magic," were all part of a soulful selection of unique instrumental stylings – and a couple of vocal selections – that helped to put the icing on a multi-layered musical cake.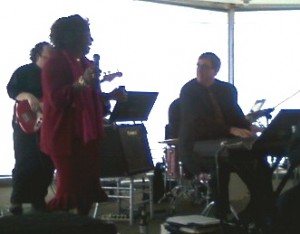 However, the extra dessert was provided by Motown legend Martha Reeves (Martha Reeves & The Vandellas, "Dancin' In The Streets").  Her voice is still powerful – as evidenced by her soaring over the Saline Big Band in arrangements of "Take The A-Train" and "I Can't Stop Lovin' You."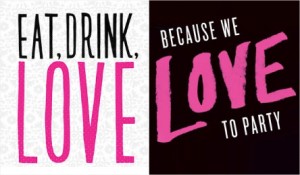 While music was the main attraction of the day at "Eat – Drink – Love," The Roostertail itself is an integral part of the event.  Great food, great atmosphere, and a great setting right on the Detroit River – even in the dead of winter – makes for a special occasion.  Throw in the incredible hospitality of the Schoenith's, a fantastic crowd…well, sometimes musicians leave a gig with an incredible feeling.  Not to mention a full stomach.