On Sunday, March 11, an interesting collegiate baseball matchup will take place in Avon, Ohio.  All-Pro Freight Stadium – one of the great minor-league ballparks in the Midwest – will provide the stage as Oberlin College hosts Concordia University-Ann Arbor in a doubleheader matchup between these two rising baseball programs.
Expected Start Time:  Pre-game 11:50am, First Pitch at 12 noon – Sunday, March 11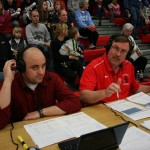 Steve DeDoes will call the game, and provide audio play-by-play, commentary, interviews with guests from both schools, and an early season introduction to both teams and their fortunes.  DeDoes' broadcast, along with live "game tracker" stats and graphic presentation, will be presented through the Oberlin athletic website, goyeo.com.
(NOTE: you'll want to make sure your system is compatible in advance–more information, and helpful links, below.)
DeDoes' ties to both schools will enable him to enthusiastically describe both the action on the field and the prospects for the teams' 2012 seasons.  Steve has served Concordia University athletics in recent seasons as a distinctive and colorful P.A. voice for many sports, a top-notch play-by-play announcer for basketball broadcasts, and in his writing about notable Cardinal athletic stories.

However–on that day, Steve will also "see red" because of son Mattie DeDoes, who is expected to help lead the charge for the host Yeomen. DeDoes is expected to start one of the contests "on the bump" as starting pitcher, and will be in the lineup for the second game (most likely at 3rd base).
Mattie DeDoes will face not only a school that he knows well, as they make the trip from his hometown of Ann Arbor, but he will also see two former teammates in the opposing dugout.  Concordia freshman Jack Scheel (himself also an P/IF, like Mattie) played on the same 2010 Michigan Sports Academy summer travel team as DeDoes; another Cardinal freshman, LHP Mike Goike, was a teammate of Mattie's at Gabriel Richard High School.  As team captain, DeDoes led Gabriel Richard to the state finals during his senior year, and Goike was a junior member of the squad which set a Michigan state record for victories in a season, with 43.
So, the on-field connections on March 11 will be rampant.  We hope you, too, will make a connection–tune into hear Steve's call as Concordia, Oberlin, Mattie and friends take the field !  Baseball season is in full swing !!
TO TEST COMPATIBILITY IN ADVANCE:
go to the Oberlin Baseball "Schedule" page (opens new window);
click on "Live Audio" link for March 11 games;
click on "Webcast readiness check" button;
follow instructions, install Microsoft Silverlight if necessary.
ON GAMEDAY:
Bring Up "Live Audio," along with "Live Stats," in separate windows – follow the action, along with S.D.'s "call" !!!
Expected Start Time: Pre-game 11:50 am, First Pitch 12 noon