The magnificent design of this CD package was adapted for the 2018 "Christmas Air" release. Originally created in 1998 for the "Michigan Christmas Air" CD produced for the American Lung Association, the eye-catching original graphics and themes continue to present a fantastic visual presentation for this great CD.
The artwork – from concept to detail – is a brilliant piece of work from the talented Tom Petiet.  Many thanks to Tom – and Concept Studio in Ann Arbor, Michigan – for not only the original designs, but for his help in editing and re-generating updated images for the new release !
(The kunaki.com sales page displays the artwork even better than shown here. Use the "Rotate Case" button in the upper left corner to see !
FRONT COVER: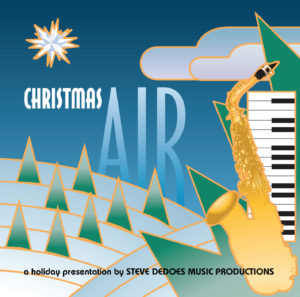 BACKSIDE, COVER INSERT: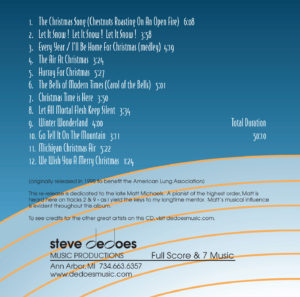 DEDICATION
This re-release is dedicated to the late Matt Michaels. A pianist of the highest order, Matt is heard here on tracks 2 & 9 – as I yield the keys to my longtime mentor. Matt's musical influence is evident throughout this album.

TRAY CARD (i.e., CD case back)



CD FACE ART